Welcome to the Rickshaw Run page.
I first would like to thank everybody for their generous support.
On January 1st 2011 me and my friend Werner drove our auto-rickshaw from Jaisalmer, Rajasthan to Cochin, Kerala in India.
Our team name was "'Evil Belgians".
15 days, 3000 kms and lots of breakdowns later we arrived with great satisfaction at our destination.
This event was organized by a British organization called 'The Adventurists" and was also a charity ride for a non-profit organization called "Frank Water Projects".
This event has raised enough money to give clean drinking water to 90000 Indians for the rest of their lives.
More info on all of this at the following links:
http://rickshawrun.theadventurists.com/index.php?page=rickshaws
www.rickshawrun.theadventurists.com
www.rickshawrun11w.theadventurists.com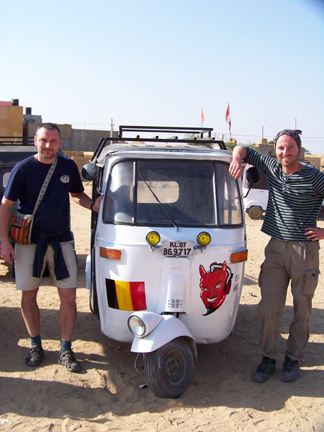 Me and Werner with our "Pimped" Rickshaw in Jaisalmer, Rajasthan.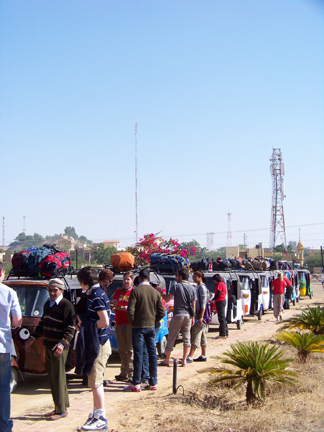 Everybody is awaiting the big launch.
Most of the 59 teams that participated chose the coastal route but we decided to go through the middle and see a part of India where tourists will not go, English is not spoken and thus a bit challenging.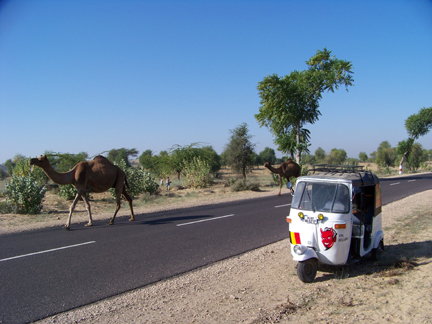 Camels in the desert, Rajasthan.
We managed to have enough time to include a few 'World Heritage" sites such as Ajanta, Elora and Hampi.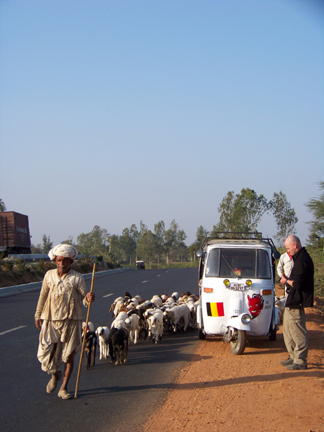 Along the way.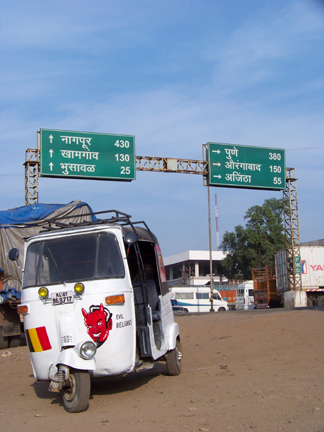 Everything is well signposted.
The auto-rickshaw is indeed, as we found out, not designed for such a trip (mainly used as a city taxi) and on day 7 our engine jammed and we had nothing but breakdowns after this. Rickshaw comes from the Japanese word jinrikisha. Jin=Human, Riki=Power or force and Sha=Vehicle. Thus a Human Powered Vehicle. In the early days a rickshaw was pulled by hand.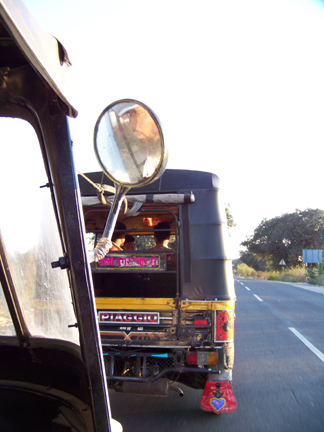 We needed to get towed with a rope and bicycle tire by another rickshaw.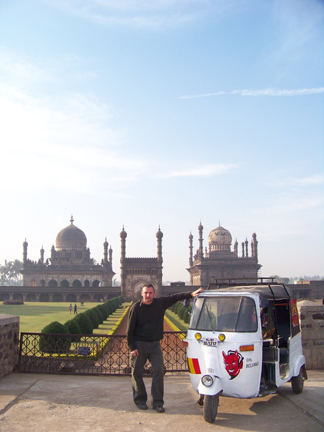 Tomb of Ibrahim Rauza, Bijapur, Karnataka.
Here is a list of the things that we had to have repaired, were able to fix it ourselves or found great mechanics that would fix it for us.:
New piston,bearing and packing, 2 new back tires, ignition coil, CDA coil, extra metal L-bracket support for our front lights,chassis welding with 2 L-brackets supports, 2 rods were welded in the front, lubrication, oil change and grease, spark plugs, spark cable, speedometer gear and cable,engine mount, bearings in one back wheel.
All of this including parts and labor was done for under €100.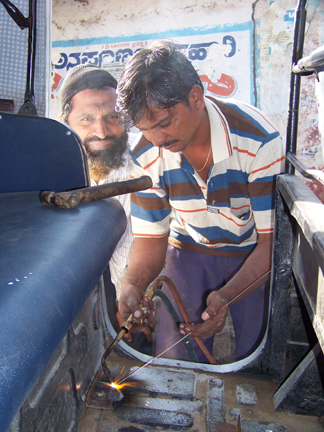 Repair work in Kamalapuram, Karnataka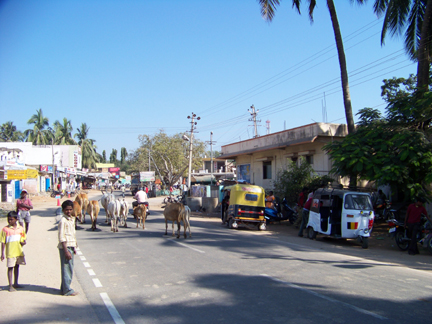 Kamalapuram,karnataka
We used about 140 liters (about 37 gallons) for the whole trip (about 21 kms per liter or about 50 miles to the gallon)
We had a 2-stroke engine so we needed to mix our petrol with oil and one liter of this mixture was about €1.20 per liter ( about €4.5 per gallon)
A new auto-rickshaw will cost about €2000.
We had to pay an entry fee of about £895 per team and were supposed to raise a minumum of £1000 in donations for charity(Frank Water projects).
We managed to raise about £2100.
It was definitely an adventure, not without any danger, a lot of very bad and dangerously broken roads, breakdowns, towings, local hospitality, communication challenges, humorous situations, highly frustrating situations, all in all INDIA.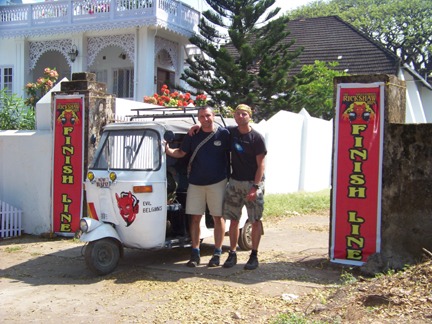 The finish line in Cochin, Kerala.